Upcoming Events & Classes
Karuna Joy is a practitioner and teacher of Self Healing Arts. She has locations in Northern Virginia for private and distant healing sessions using healing modalities such as Reiki Treatments, Sound Therapy, Yoga of Sound, Crystal Bowl Healings, Energy Healing, Singing and Voice Therapy Lessons, and much more. Reston Reiki and Self Healing Arts is based in Reston Virginia, with other locations available within Fairfax County including Herndon, Great Falls, Burke, Centerville, Vienna and Oakton. Karuna Joy draws clients from all over Greater Washington DC, including Tyson's Corner, McLean, Alexandria, Arlington, Falls Church, Annandale, Bethesda, Silver Spring Maryland and all over the USA. She has many long distance client sessions using powerful energy healings techniques from all over USA and abroad. She offers holistic healing sessions, counseling and instruction, spanning a variety of healing modalities, which embrace the spirit/mind/body connection supporting the each individual's momentum to heal on all levels. Karuna uses a wide variety of holistic healing modalities while working with her clients. She loves working with her clients and trusting that whatever energies (modalities) are meant to come through will grace them in a magically magnificent way, opening the door for an amazing healing. Karuna's deepest wish is to support her clients in their journey of self healing, helping to clear the way for them to be all that they can be, in the highest and best way, with grace and ease.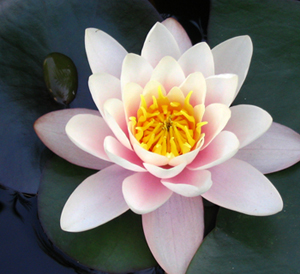 Karuna is a devoted teacher of young children; she home schooled her five children. She is a very talented musician and creates beautiful healing music. Her music group, Somos el Mar, presents music programs in the community for the elderly and those in healthcare facilities. In addition to music, she is deeply committed to learning, practicing, teaching other healing arts and sound healing. Finally, she is always amazed by the wonder of her own endless journey of self discovery!
Karuna's clients come to her seeking balance, peace, and harmony in their lives on all levels - physical, mental, emotional, and spiritual. Distant Healing is just a phone call away and available using Skype. Distant Energy Healing, Theta Healing, Reiki Healings can be done in person or during a phone session. She is grateful to have so many energy healing resources to draw from years of training and practice. The ones that are perfect for each client's situation and temperament always come through powerfully, yet gracefully.
Transformational processing can take up as much of the session, as is needed, as the client opens to healing energies in sharing, releasing, and coming to balance and integration. It is an inspiring process.
Sound healing, using vibrational tools (such as Tibetan and crystal singing bowls, tuning forks, drums, voice, tinkshas, and rattles), is often woven into the fabric of the session. This results in a profound connection with universal healing energy. Sound healing can quickly take one to a deep meditative and expansive state. It can facilitate a welcome release from negative energy, allowing love and light, that is our natural condition, to come flooding into our being. It is a sacred, joyous journey of transformation.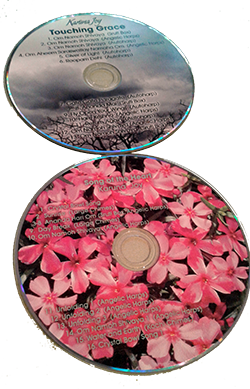 Hello dear friends,
People often ask if I have any cds of my music. So here are a couple...
Touching Grace shares some favorite mantra and original lyrics, with vocals, autoharp, and angelic harp throughout
Song of the Heart is a continuous track of sacred sound healing of crystal bowls, various chimes, sruti box, and vocals. I love to play this one in the background during sessions...
Quality of sound is infinitely better than Facebook... deep gratitude and love, karuna joy.

If you go to karunaJoy YouTube, you can hear some of me, lower sound quality though.....
Here are the links to purchase,
Song of the Heart ($12)
Touching Grace ($12)
Both Touching Grace and Song of the Heart ($20)
Karuna Joy Laughing Yoga Meditation
Laughter Yoga is a purifying, joyous, unifying meditative practice, that brings, healing, balance, and support on all levels of our being.

All Love Meditation, Light Prayer, and Transformation
all remind us strongly of our true essence, fundamental connection with Universal, Divine Light, and Love.